Interior Designer / Interior Architect
Interior designers and licenced interior architects in Nîmes will guide you during your remodeling project, from the project manual to the execution: floor plans, materials, quotations, work supervision, choice of furniture and decoration.
Good reasons to hire an interior architect in Nîmes
Qualified interior architects are insured and possess all necessary clearances to engage in any construction works.
Interior designers & architectd can provide useful advice before the purchase of an off-plan apartment in Nîmes.
An interior architect or designer will help you prevent any issues before starting your remodeling project in Nîmes: project feasibility, budget.
Interior architects are experts who make the right decisions about materials, colors, furniture and so on. Their expert view will help you make the most of your interior in Nîmes.
An interior architect will provide you with concrete documents to see the results before engaging any works in your new apartment or new house in Nîmes: sketches, drawings, floor plans, 3D images.
An interior architect helps you get precise and transparent quotes from trusted contractors in Nîmes: masonry, electricity, plumbing, carpentry, painting…
Through interior architects, your project will be in the hands of craftsmen and contractors known for their reliability and professionalism, and properly insured. The ongoing and exclusive relationship contractors have with interior designers guarantees you quality.
Interior designers know how to navigate the construction market, which allows them to obtain the best quotes and prices for works.
Commercial & Retail Interior Design
Interior architects can provide crucial contribution when redesigning commercial spaces: offices, shops, restaurants, hotels or any other commercial surface open to the public.
Your collaboration with an interior architect in Nîmes: What to expect
An interior architect is your partner to redesign your interior in Nîmes. They will understand your needs, personal taste, lifestyle and budget. They will be following up with you from the initial specifications to the works supervision and coordination of the project.
First step: initial interview
On this first meeting, the interior architect will listen to you and collect information about your renovation project in Nîmes. This first interview is essentiel to understand your needs and personal taste for material, colors, furniture and style.
Visiting your interior will help the interior architect to maximize the surface available, according to your budget and needs. It will also allow a first inspection of technical aspects (walls, isolation, plumbing, electricity, water and gas).
The interior architect will estimate the potential for a renovation and share ideas and advice on the spot in terms of space planning, material, furniture and decoration.
If you are prospecting to purchase a new house or apartment in Nîmes, it is possible to consult an interior designer for a home inspection.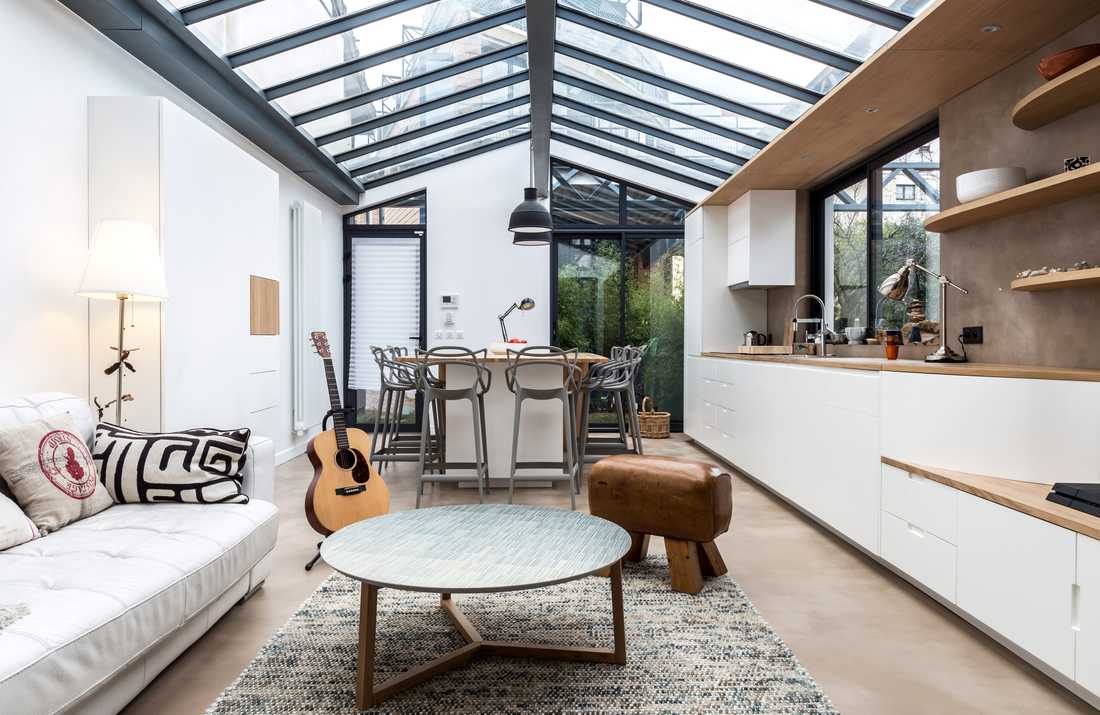 Second step: specifications for your interior architecture project
After carefully measuring the existing space and based on the evaluation of your house/apartment's potential, the interior architect shares several options of remodeling orientations in sketches.
Once you agree on a direction, the interior designer provides information about all the technical components of the projets: floor plans, electrical plans, section plans…
With the help of the interior architect, you will select the materials used for the remodeling, such as wall finishes, flooring or even plumbing fixtures.
The interior architect consults and shares these specifications with selected trusted contractors for the work execution. The contractors are selected to match the needs of your specific project.
Interior architects are experts of the construction market. It allows them to obtain the best quotes and prices.
Once all these steps are completed, the project can be moved to the next stage: execution. Your interior architect supervises and coordinates the works.
Third step : supervision and coordination of the construction - work execution
Interior architects are responsible for following up and coordinating all aspects of the work, in collaboration with general contractors, kitchen cabinet makers, tilers, carpenters, plumbers, masons, painters and any other contracted worker.
They make sure that the project is fully executed. They constantly monitor the progress of the works.
Their expertise in interior decoration, knowledge of the specifics of your project and understanding of your personal taste allows them to select the furniture, colors and overall decoration with you. Their goal is to come up with the most harmonious result for your future apartment in Nîmes.
In order to best fit your budget, the interior designer allows you to benefit from professional discounts from the providers selected for your interior decoration.
After moving in in your redesigned interior, the interior designer helps you setting up the furniture and decorative objects in your space.
Interior architect / Interior designer fees in Paris VAT ex.
1st step - Initial interview
 
80 € / hour
(refunded if you decide to move forward to the next step)
2nd step - Specifications for your interior decoration project (by tier)
| | |
| --- | --- |
| Surface ⩽ 40 m² | From 70€ / m² |
| Surface between 41 and 80 m² | 60 € / m² |
| Surface between 81 and 120 m² | 50 € / m² |
| Surface between 121 and 240 m² | 40 € / m² |
| Surface ⩾ 241 m² | on quotation |
3e étape - Monitoring of craftsmen's work, orders and shopping, project finalisation (by tier)
| | |
| --- | --- |
| Less than 100 000 € of the works amount | 9 % of the works amount |
| Between 100 000 € and 200 000 € | 8 % of the works amount |
| More than 200 000 € | 7 % of the works amount |
You are free to work with an interior designer for only one or several step.
Minimum billing (step 2 and 3) : 2 200 €